REV GOMM LTD
---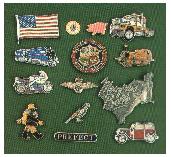 REV Gomm are a small but prestigious company manufacturing enamel badges and associated goods in the jewellery quarter of Birmingham. An extensive range of designs, and dies have been accumulated since the company was formed in 1908. Following the sad death of Mr Gomm in 1997 the company was brought into the Shaw Munster Group and continues to produce quality British-made badges and souvenirs. A brief description of the range is given below. In addition to these stock items, Gomms make badges to special order with a minimum quantity of 25. Quotes can be obtained on submission of number required, size, shape and colours etc. Phil Rowlands has been REV Gomm's agent for England and Wales for many years. If you would like further information please contact Phil Rowlands.

---

REV Gomm produce a vast range of locomotive brooches, operating company emblems and other rail related items which are supplied to shops, museums, historic preservation societies and other groups with an interest in railways. There are over 200 "side-view" locomotive badges available, as well as locomotive nameplate brooches, company crest brooches and button covers, crested spoons, bookmarks and cufflinks. A Collector's series of individually boxed large brooches are also produced.


REV Gomm produce enamel badges depicting side/oblique views of many different makes of bus and coach in many different company liveries. Historic tram, trolleybus, traction engine and fire engine badges are also available. Gomms also produce a wide range of truck manufacturers emblems and oblique view badges of modern and historic trucks.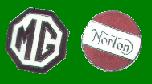 Badges and key fobs are also produced depicting the emblems of most classic and modern car and motorcycle manufacturers.


The range includes brooches bearing pictures of well known military aircraft (historic and modern), and pin-badges and tie-slides cast in the form of various aircraft. Regimental and service crests are reproduced as badges or teaspoons. Some military brooches are also available in the boxed Collectors Series.


Gomms also produce a range of national flags in different sizes, brooches with the emblem of football teams, badges depicting musical instruments and many other subjects. They also produce "badges of office" for schools and societies such as "Head Boy", "Prefect", "Treasurer" and Chairman"